About Spirit Mountain Artworks
Gallery
"From Anchorage to Fairbanks to Tangle Lakes to Valdez, yours is the most original gallery/shop we've seen."

Eric N. & Pamela S.
Wethersfield, CT
In late 1977, jeweler Art Koeninger bought the "Chitina Tin Shop" with the intention of scrapping out about half of it for a cabin in the woods. Instead, he succeeded in getting it on the National Register of Historic Places as well as winning two historic preservation grants. Over eight summers, he and family, friends, and volunteers restored what is now known as Spirit Mountain Artworks. The cabin in the woods never got built.
Read an article by by Michael Dunham, Anchorage Daily News Arts Editor
Ghost Town Gallery: Real Art Thrives in the Shadow of Spirit Mountain
Art Koeninger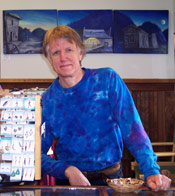 Art Koeninger
Photo by April Bederman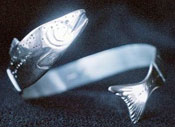 Salmon Bracelet
by Art Koeninger
14K Yellow Gold & Sterling
After 25 years in Chitina, Art moved to Homer, Alaska in 2003. He continues to manage the business end of the gallery from Homer, and to maintain and improve the building in Chitina during his seasonal visits there.
The tradition of traveling artshows continues throughout December in Valdez and Anchorage. Please visit our guestbook to receive notices of these and other special events.
Art has a studio near the beach at Kachemak Bay, within walking distance of the many cultural and social venues that Homer has to offer, and where he is able to focus on his own art work for the gallery. He continues to find ways to contribute to the community's spiritual and social well being, both locally and globally.
His talents as a metal smith and sculptor have been utilized in the mounting of artifacts for the new exhibits at Homer's Pratt Museum. You can see samples of Art's jewelry and metal work online - visit often as artwork is updated periodically! Please contact Art if you would like to know more about his work.
You can also listen to an Oral History Interview, part of a joint project of University of Alaska and Wrangell-St. Elias National Park. On tape, Art talks about what brought him to the Chitina area and the many issues, opportunities, and challenges that keep him there. Historic preservation and community service are key themes in this interview.
Our Historic Building
"Your shop is beautiful."

Lisa C.
Felton, CA
Spirit Mountain Artworks is housed in the former Chitina Tin Shop. Our building is now on the National Register of Historic Places. Learn more about the history of Chitina and of our building in the Chitina Tin Shop Historic Preservation Plan.
Spirit Mountain Artworks | PO Box 22 Chitina, AK 99566 | info@spiritmountainalaska.com
Summer Phone 907.823.2222 | Winter Phone 907.235.1014
Photos © Art Koeninger unless otherwise attributed.
No images may be copied or otherwise used without permission of Art Koeninger or Spirit Mountain Artworks.
Web Site Design by Elizabeth Kanter