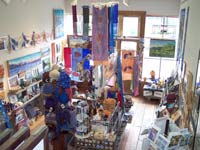 Many of our visitors are delighted to discover Spirit Mountain Artworks in such a beautiful out-of-the-way setting. First time visitors often hear about us by word of mouth. We regularly become a "must see" on return visits! Purchasing from us is easy!
Gift certificates are available! Call or Contact us to inquire. We can work out a gift certificate that can be mailed, or held for that special person to use during our December traveling shows or at the gallery during the summer season.
We also have a Wish List Registry for weddings, special occasions, and for your loved ones who are gift-shopping-challenged. Contact us with the artists or items you like, and we will gently guide your beloved in the right direction when they stop by the gallery or visit our December traveling show.
We're sure you'll be pleased with the quality and price range of our wide selection. We have thousands of items and more than one hundred artists and suppliers. You'll be pleased to know that our art is lovingly crafted by individuals, with a face and a story behind every object. Check out the most recent photos of the gallery.
Just a few of the items you might discover while browsing our gallery include:
a porcelain casserole built by one of our Alaskan potters
gold nugget earrings from a family mine in Indian
a silver ring by a soccer dad in Homer
a headband or hat hand spun and knitted from sled dog fur by a mom who takes her kids rafting on the Copper River
original wood block prints by a dad of three and a special education teacher,
colorful prints created by an artist with Down syndrome, whose work was chosen to promote the 2001 Winter Special Olympics
Kevin K.C. Crowley, Ink
Spelman Evans Downer, Oils
Kelly Doherty Leonard, Acrylics
Faith Revell, Watercolor
Joy Peterson Snodgrass, Watercolor
Sue Zajac, Marbling

Erik David Behnke
Shannon Cartwright
Kevin K.C. Crowley, Woodblock
M'fanwy Dean
Sharon Freeman
Spence Guerin
Terri Jo Hedman
Dorothy Hook
Kelly Doherty Leonard
Gail Niebrugge
Kathy Sarns
Marianne Wieland
Vladimir Zhikhartsev

Jim Brasheary
Ann Newbury
Leonard Peck & Valerie Luczak
Jeff Szarzi

Arlene Cowles, Indian Valley Mines, Gold Nugget Earrings
Robyn Corbett
Judie Gumm Designs, Silver and Gold
Larry Hoare, Winter Creek Jewelry, Silver & Gold
Art Koeninger, Silver and Gold
Venessa Murphy, Beadwork
Geoff & Sandy Olson, Jack of Arts, Scrimshaw on Fossil Ivory
George Overpeck, Wood & Resin
Pat Pearlman, Silver & Gold
Loey Gi' Stayden, Alaska Rocks
Shasta Swanson, Silver

Dwight English, Rolling pins, Salmon Bonkers
George Overpeck, Turned Bowls
Norm Schneider, Hand-made Brooms

April Bederman, Hand Felted Hats/Scarves.
Kitty Kincaid, K.A.T.'S, Marbled and Batik Silk
Heather Krawiec, Mountain Heather Hats
Jen Luton, Tie Dye T-shirts
Robin Underwood, Wild & Wooly, Hand Felted Hats/Scarves, Sled Dog Fur/Wool Knitted Headbands/Hats

Salli Burgin
Helga Wagenleiter
Susanne Wilson

Maynard Linder, Dancing Man Knives & Ulus
Trusten Peery, Wrought Iron

Alaska Women Speak

Animal Eyes, Contemporary Rock
Caleb Anderson, Singer/Songwriter
Dwight Edwards-Smith, Singer/Songwriter
Shonti Elder, Singer/Songwriter
Melissa Fisher, Jazz
Pat Fitzgerald, 10th Planet Records, Singer/Songwriter
Robin Dale Ford, 10th Planet Records, Singer/Songwriter
David Grimes, Singer/Songwriter
Sami Knutson, Singer/Songwriter
Anna Lynch, Singer/Songwriter
Dan McElrath, Jazz
Ann McBeth, Singer/Songwriter
Jurgin Ogrodnik, Classical Guitar
Libby Roderick, Turtle Island Records, Singer/Songwriter
Super Saturated Sugarstrings, Contemporary Rock
Mariah Verhoef, Singer/Songwriter
Ken Waldman, Fiddler, Poet

Denali Dreams, Soaps & Salves
Kahiltna Birchworks, Birch syrup and candies
Sarah Nelson, Copper Basin Creations, Soaps

Erik David Behnke
M'fanwy Dean
Sharon Freeman
Dorothy Hook
JenAnn Kirchmeier
Jennifer Norton
Sue Zajac

Michael Moody, Rawhide Rattles

"One of the best craft displays in all of Alaska. Prices are very fair."

Dick & Julia B.
Palm Harbor, FL

"The finest small shop I've seen in ages."

Donna S.
Anchorage, AK

"Great store, great weather, nice town in the middle of nowhere."

Nanny & Frank K.


"Objets de bonne qualite."

Marie Françoise N.
France

"The best ulus I've ever seen new or used , worth a trip!"

Lianna T.
Anchorage, AK

"One of my favorite galleries in Alaska. Such a nice variety of artwork."

Mary L.
Fairbanks, AK

"Your prices are very reasonable. I live in the Alaskan Bush and things would cost twice this! Great store."

Bonnie M.
Dillingham, AK
Spirit Mountain Artworks | PO Box 22 Chitina, AK 99566 | info@spiritmountainalaska.com
Phone 907.823.2222
Photos © Art Koeninger unless otherwise attributed.
No images may be copied or otherwise used without permission of Art Koeninger or Spirit Mountain Artworks.
Web Site Design by Elizabeth Kanter