Real Art Thrives in the Shadow of Spirit Mountain
"The finest small shop I've seen in ages."

Donna S.
Anchorage, AK
By Mike Dunham, Anchorage Daily News Arts Editor
Friday, May 31, 1996
Page H8, Weekend Section
Alaska travelers know what to expect at tourist knickknack emporiums: trinkets, curios and kitsch, some of it cranked out as far away as Pakistan.
But inside the old-timey facade of Spirit Mountain Artworks in Chitina, one finds no painted Taiwanese totems, moose-nugget swizzle sticks or cute wildlife prints. Instead, owner Art Koeninger has lined the white walls with paintings by respected Alaska artists, including Carol Crump Bryner, Marianne Wieland, Spence Guerin, Gail Niebrugge and Jen-Ann Kirchmeier. Here, you find Fran Reed's fish baskets, Tony Maury's fish platters, batiks by Janaan Kitchen and pottery by Leonard Peck.
This ain't no trinket shop.
Visitors from around the world express surprise and delight at discovering what three Swiss tourists called "high-class art [in] this unexpected . . . lost village" 252 miles from Anchorage. They like the merchandise. They love the building.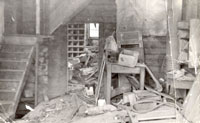 Tin Shop Interior 1978

Twenty years ago, there wasn't much to love. The Chitina Tin Shop stood in shambles, haunted by memories of glory long gone.
In 1910, the Copper River and Northwestern Railroad picked Chitina as its main depot between Cordova and the Kennecott copper mines. A wagon path connected with the Richardson Road, providing routes to Valdez, Fairbanks and Eagle. Chitina became a boom town "where the rail meets the trail," with five hotels and a flourishing commercial district.
That's when Fred Schaupp built his tall-walled hardware and sheet-metal store, with living quarters on the second floor. Double doors and a full front of windows welcomed mushers, miners, teamsters and railroad men.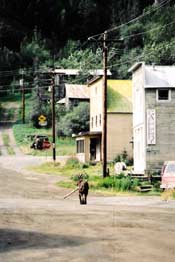 Main Street
Photo by April Bederman
In 1918, Schaupp relocated to Cordova. His building continued to be used for metal fabrication and mechanical work. In time, a back addition was tacked on and the windows were replaced by garage doors.
In 1938, Kennecott shut the mine. The train stopped running. Chitina became a ghost town.
That's pretty well how Koeninger found it in 1977, when he drove out from Anchorage on a lark.
The son of a Texas college professor, Koeninger studied painting as a child and got into metal sculpture while studying liberal arts at Houston's Rice University in the 1960s. His life changed when he volunteered for a summer work project in Guatemala organized by the [American Friends Service Committee] -- better known as Quakers.
"I didn't know much about the Friends," he said, "but they have good social programs. It really opened my eyes."
The young scholar helped build ..., sanitation facilities, benches for the village chapel and a community [water line.] He returned to the United States transformed by the Friends' commitment to nonviolence, justice and bridge-building. He dropped out of Rice and went to work for the group, organizing things like summer activities for inner-city youth in Detroit in 1966.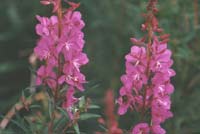 Fireweed
Photo by April Bederman
He came to Alaska as a tourist in 1975, settled in Anchorage, worked for Nick Begich Jr. Jewelry and made [jewelry] at the Visual Arts Center prior to his fateful jaunt to Chitina.
By the 1970s, dip netters were swarming into the old town to scoop up Copper River salmon. Some people had the idea that Chitina could boom again.
"Hess and Sons was auctioning off vacant lots," Koeninger recalled. "I bought some and planned to build a cabin. I was looking for lumber, and basically bought this building for scrap."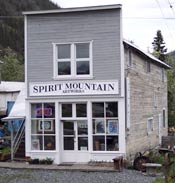 Spirit Mountain Artworks
He figured he might be able to salvage half of the wood in the old structure, which had developed a three-foot sag in its middle. But before he could dismantle it, the owner of a building in McCarthy -- Chitina's sister ghost-city -- told him about federal restoration grants administered by the state Division of Parks. Koeninger began the process of having his building put on the National Register of Historic Places and qualifying for funding.
He raised the building on steel I-beams and rebuilt the foundation, removing the sag. He restored the front windows and made the space more energy-efficient with modern insulation and 12-inch walls. It took eight years before he opened for business in 1986.
Since then, he said, the gallery has paid its way, an astounding claim when one considers that Chitina counted 49 residents in the 1990 census and has one of the lowest median household incomes of any settlement in Alaska.
Yet during fishing season, thousands of people roll into town.
"Most arrive with salmon on the brain," Koeninger said. "It's hard to get their attention. But the fish widows come by, and the husbands who don't bring their wives want to pick up a present. This is one of the few restored buildings in town, so, in a way, it's its own attraction."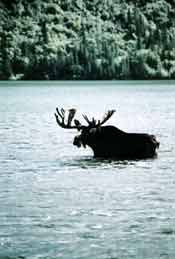 Moose in Town Lake
Photo by April Bederman
Koeninger supplements his summer business with living-room shows -- "glorified Tupperware parties," he calls them -- in Anchorage, Fairbanks and Valdez during November and December. He also teaches jewelry-making as an adjunct professor for Prince William Sound Community College and has done several tours with the Artists in Schools program since 1978.
He makes additional money from his own metal jewelry and vessels. His decanters, cups and servers are Cellini-like masterpieces of metalsmithing -- perfectly utilitarian, but so elegant that they can be admired as sculpture. Spirit Mountain Artworks is the only commercial outlet for his work.
The same may be said of other artists who display with Koeninger. Peck's pottery is highly admired, but unavailable at stores. Peck said he dislikes the markup and prefers direct sales, home shows and venues like Anchorage's Saturday Market. He said he made an exception for the gallery next to the Copper River, in part, "because we still eat out of that river."
There's a kindred sense of integrity in Koeninger's selections. From oil paintings and fabric art to diamond willow carvings, bead jewelry, "dream catchers," windsocks and wooden toys, everything shares a high level of both imagination and execution.
Artists who display at Spirit Mountain call it one of the best galleries to deal with.
"Art's prompt on payment, professional, keeps everything on computer and sends us a record of each sale," Anchorage painter Jean Shadrach said.
Koeninger's Macintosh serves another purpose. He has remained active on social policies as a director of the American Friends Service Committee. (He also was a member of the first Witness for Peace delegation to Nicaragua, protesting U.S. support for the Contras in 1985.)
"The computer makes it possible to remain engaged in the world. I can do a lot over e-mail."
He said his remote address helps him explore ways for the committee to reach people who are far from the center of things.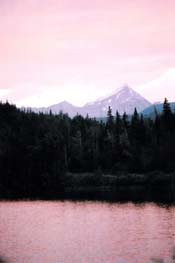 Spirit Mountain & Town Lake
Photo by April Bederman
"Alaska can offer unique perspectives on Native American issues, East-West social issues, the death penalty and criminal justice," he said.
Through the Friends' network, he has recruited volunteers to work on the building. One volunteer, Rebecca Nelson, now lives in Kenny Lake -- the next closest settlement -- sells her weaving through the store and runs the local book-mobile.
Global issues don't distract Koeninger from local needs.
"When you live in a small town, you wear a lot of hats," he said. "I'm with the emergency medical service, the fire department, the community association." Among his duties is fixing the community well... He's working on a grant to improve visitors' facilities in town, including a bike path to keep cyclists out of the way of motorhomes and logging trucks. He used to repair tires, as well, "but there's less of that now that we have a full-time mechanic in town."
A bachelor -- "most of the time," he added with a sly smile -- he enjoys skijoring with his massive chocolate Lab, Gorby, and biking. While critical of the "covert" way that former Gov. Walter Hickel tried to punch a drivable road through from Chitina to Cordova three years ago, he noted with evident pleasure that "it did give us a terrific mountain-bike trail."
Most of his waking hours, however, go into the 85-year-old store that has become his home.
"I'm real close to finishing," he said while rehanging his wares on freshly painted walls last week, a few days before the annual visitors crammed into town. "I need to finish the back rooms, bedroom and workshop areas, get real kitchen cabinets."
He paused to gaze as the sun streamed through the big windows looking toward the 7,200-foot Spirit Mountain.
"What I need is time," he said. "This building has taken over my life."
Spirit Mountain Artworks | PO Box 22 Chitina, AK 99566 | info@spiritmountainalaska.com
Summer Phone 907.823.2222 | Winter Phone 907.235.1014
Photos © Art Koeninger unless otherwise attributed.
No images may be copied or otherwise used without permission of Art Koeninger or Spirit Mountain Artworks.
Web Site Design by Elizabeth Kanter