Chitina Attractions
Why Do People Visit? Why Do People Stay?
Visitors from around the world come to sight see, fish our local lakes and streams, camp, hunt moose, bear, bison, and sheep. Many come to recreate in the nearby Wrangell-St. Elias National Park and Preserve, to explore the Wrangell and Chugach Mountain Ranges, or float the Chitina River, Copper River and other local rivers. Bicyclists favor the 60 mile Chitina-McCarthy Road, which is situated on the old CR& NW rail bed. An additional 20 miles or so of the rail bed, paralleling the scenic Copper River and Wood Canyon, are accessible by bicycle south of Chitina.
"Can't visit Chitina without a purchase at Spirit Mountain Artworks!"

Valerie B.
Anchorage, AK
Chitina and her historic neighbors McCarthy and Kennicott, which also date back to the early 20th century Kennecott Copper mining era, still provide a window to this important part of Alaska's history.
Chitina, is a popular destination for Alaskans who participate in its subsistence and personal use salmon fisheries. Others come to watch the local fish wheels and dip net fishers pull world famous Copper River salmon from the silty, frigid waters. Selling the locally caught salmon is not legal.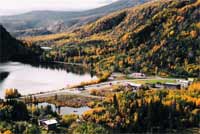 Downtown Chitina
Photo by April Bederman
Most services are available in Chitina, including fuel, groceries, lodging, cafe, bar, gift shops, camping, auto and tire repair, hunting and fishing permits, a clinic, emergency medical and fire services, showers, laundromat, visitors wayside and public restrooms, water, and phones, a TV repeater station, its own local electric grid, a post office, National Park Ranger cabin, church services, air charters, river boat charters, a state high way maintenance station and air strip, and of course Spirit Mountain Artworks.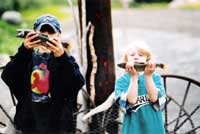 Town Lake Trout & Grayling
Photo by April Bederman
Most of the 120 or so year-round residents participate in local subsistence hunting and fishing, as well as berry picking and other "wildcrafting" and gardening. Besides subsistence activities and crafts, local employment includes owning or working in local businesses and services, tourism, US Post Office, Chitina Native Village Corporation and electric company, Chitina Native Village Council, clinic and village housing, Alaska Departments of Fish and Game, and Forestry (wildland fire fighting). There is no local government. Local services are provided through the local Native Village Council, Volunteer Fire Department and EMS, and a local nonprofit organization Community Improvement Association of Chitina. About half of the local residents are Alaska Natives. Much of the surrounding land belongs to Chitina Native Village Corporation and Ahtna Regional Native Corporation through the Alaska Native Claims Settlement Act of 1971.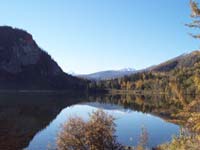 Town (Trout) Lake
Photo by April Bederman
An ancient shift of the Copper River left the small north-south valley that Chitina itself is located in, along with a string of small lakes, which are stocked with trout and grayling. White spruce is the predominate vegetation, along with cottonwood, willow, alder and some birch. The surrounding mountains create a "rain shadow" that leaves Chitina with about 14" of annual rainfall.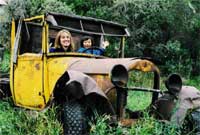 Long Term Parking
Photo by April Bederman
Summers in Chitina are mild, highs are in the 60s and 70's F, lows in the 50s F. It seldom frosts between Memorial Day and Labor Day. The long days are great for gardening as well as recreating. There are about 20 hours of daylight at summer solstice, though it doesn't really get dark for most of June and July. It is frequently windy in Chitina in the summer, due to the prevailing southerly winds off the Copper River. The river itself can be quit gusty. Consequently, there are few mosquitoes to be encountered in Chitina.
Winters are more interior than coastal in nature, with lows usually -10 to -20F, sometimes dipping to -40F or lower, without the winds that are common in summer. There are about 4 hours of daylight in mid-December. Snowfall does not accumulate more than 2-3 feet.
Dipnetting Salmon
Photo by April Bederman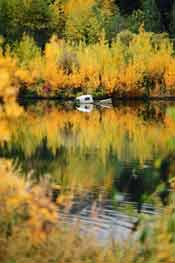 Off Street Parking
Photo by April Bederman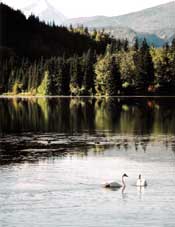 Trumpeter Swans
Photo by April Bederman
Fishing, Biking, Flying, & Wilderness Activities
Dipnetting Salmon
Dipnetting Salmon Article
Local Fishing Map
Bike Tours
Flight Seeing
Wrangell-St. Elias National Park
Things to Do
Slide Shows of Chitina and Environs
Alaska Department of Commerce
Dianne Milliard
J. Busher
Q.T. Luong
Outfitters and Rafting
Copper Oar
River Wrangellers
St. Elias Alpine Guides
Chugach Outfitters
Ultima Thule
Floating in Wrangell-St. Elias National Park
American Whitewater

Historic Chitina Photos, Models, and Legacy of the Chief Novel
Historic Photos of Gallery and Chitina
Chitina Tin Shop (Spirit Mountain Artworks) Historic Preservation Plan
Chitina Fact Sheet by the Valdez Museum
Chitina Town Profile by the National Park Service
Culture and History of Wrangell-St. Elias National Park by the National Park Service
National Register of Historic Places, Alaska Sites
Alaska Office of History and Archeology
Alaska Office of History and Archeology - featuring the Chitina Tin Shop
Copper River Watershed Project
Ahtna Native Regional Corp
Chitina's Almost Petrified Forest
More Chitina History Links
Spirit Mountain Artworks | PO Box 22 Chitina, AK 99566 | info@spiritmountainalaska.com
Summer Phone 907.823.2222 | Winter Phone 907.235.1014
Photos © Art Koeninger unless otherwise attributed.
No images may be copied or otherwise used without permission of Art Koeninger or Spirit Mountain Artworks.
Web Site Design by Elizabeth Kanter